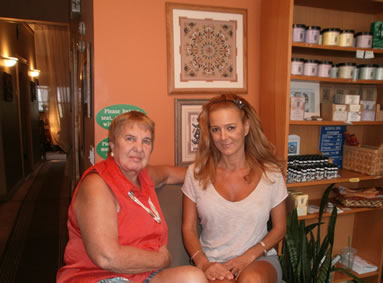 · Relaxation
· Deep tissue
· Reflexology
· Swedish
· Sports Massage
· Medical
· Back & Neck
· Anti-Stress
· Back, Neck, Feet
· Pregnancy *not first three months
· Rooms for 2 clients and 2 therapists
The Essence of Blissful
· A Must See Tranquil Nature Inspired Spa Atmosphere
· 7 Spacious Spa Treatment Rooms
· Entire Family Welcomed
· Gift Certificates Available for Any Spa Service
· Lift Your Spirits
· Indulge Yourself
· Compassionate and Knowledgeable Staff, NYS Licensed

A Gift of Health for All Occasions:
· Graduations
· Birthdays
· Mothers Day
· Fathers Day
· Valentines Day
· Brides and Grooms
· Christmas
· New Years
All massages can be 1/2 hour ($45),
1 hour ($80) or 1 1/2 hour ($125)
Other Spa Services available:
Waxing
Seaweed Wrap
Warm Stone Massage
and more
Download our Blissful Spa Services Brochure
for a more complete listing and prices
Blissful Spa of Nyack:
Thriving Since 2000
At Blissful Spa, our clients range from 6 years old to 90. I'm so happy people are learning to pamper themselves at any age. It's very sweet. We use only the best face products during our facials - Mario Badescu and Weleda do very well for all skin types and tones, for men and women and teens. We sell the products too.
I fell in love with spa facials and massages while living in Hong Kong and traveling extensively in Asia for seven carefree years in my early twenties.
Our massages are the best in Rockland. We offer 1/2 hour ($45), 1 hour ($80), 1 1/2 hour ($125). Facials are $90. Leave Blissful Spa with hydrated glowing luxurious skin. Each massage is geared toward the client's health and lifestyle. Very light massages to extremely deep tissue. A variety of Spa packages are available.
I enjoy living and working in Nyack. I'm committed to Blissful. It's meaningful and my purpose in life now. It was a struggle to purchase and renovate the building in 2000. Things seem smooth now. People seem to really like Blissful. Business hours, Tuesday - Saturday. (Sunday , Monday by Appointment, Open Some Sundays)
Blissful is a nature inspired spa atmosphere. Music is gently played, a calming waterfall eliminates street noise. The spa staff is compassionate and knowledgeable. I am very picky who I hire. Our estheticians are NYS Licensed. Most have been here since the beginning.
It's an easygoing place. I work around my staff's schedule so everyone is happy.
Blissful Spa is truly a labor of love each day. From the beginning, my job descripton has varied from one day to the next. It is time consuming but never difficult.